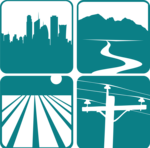 Water RAPIDS
(Water Research and Planning Innovations for Dryland Systems)
The Water RAPIDS program has been actively working with local, state, nonprofit, and federal partners on various projects since 2014. Through a flexible approach to water resources planning, we seek to strengthen local and regional economies while supporting the natural resources that contribute to quality of life. Building awareness about the relationship between natural resources and water use is foundational to our work developing solutions that meet the needs of stakeholders and the environment.
About
Water RAPIDS (Water Research and Planning Innovations for Dryland Systems) helps communities balance a secure water future for residential, commercial, industrial, and agricultural sectors with the water demands of the natural environment. Planning for people and natural resources together will lead to a more sustainable future.
Projects
Providing a range of technical and planning services, we focus on new approaches to water resource management. Past and current collaborative projects integrate components of traditional natural resources planning, land use planning, community development, stakeholder engagement process design, and geospatial analysis.
Quick Resources
Explore RAPIDS presentations, tools, and platforms focused on water resources topics in Arizona and beyond - developed for and with diverse stakeholders.
Publications
From research findings to process design and stakeholder engagement, RAPIDS seeks to share lessons-learned broadly with a range of stakeholders and colleagues.